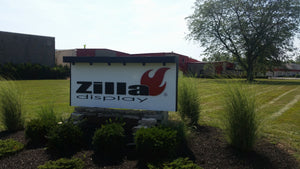 Zilla Announces further growth at their Dublin Headquarters.
Dublin, Ohio – Zilla is excited to announce that the trade show exhibit firm is making its 5th local expansion since moving to Dublin late 2015. They're taking over further real estate at 6728 Liggett Road (Suite 110), where a multi-building compound of office, fabrication and fulfillment space is nearing completion of its renovation.
"Our address hasn't changed, just the front door.", said Chris Russell, Zilla's President. "We're moving to a bigger space to help us facilitate a better way of doing event marketing."
The new nerve center showcases Zilla's fabrication capabilities, expands their offices, and doubles their footprint. Separate areas were created for Exhibit Production, including a new woodworking shop, metal fabrication area, paint and finishing bay, and a designated CNC router space. Other zones are designated specifically for climate-controlled client inventory storage, staging of displays for previews, shipping and receiving, and a design and planning studio. Zilla plans to invite local marketing professionals to tour the facility and discuss improving their current approach, and fixing their trade show woes.
"Customers find we make their jobs easier and their events more impactful.", said Russell.  "We are truly a complete trade show company [as far as capabilities and services go], and we don't hire salespeople.  Our leadership team to manages our clients' requirements right from the start."
Founded in 2012, Zilla moved its offices from Carlsbad, California in late 2015 and subleased a portion of a 1500 square foot space on Old Avery Road (Dublin).  Six months later they had added on another 3000 square feet. Then, a few months later, they moved to their current Liggett Road facility (where they already added additional fabrication space last summer).
 "Zilla Display has been a crucial component in making our equipment stand out and help us make an impact when we attend trade shows. The staff at Zilla are incredible and I couldn't ask for a better company to team up with! Feel confident in your decision when choosing Zilla. You made the right choice!", said Lyndsey Weber, Communications Manager at Absolute Innovations, Inc. (Indiana).
Located off Perimeter Road, Zilla is a full-service trade show agency- offering turn-key creative, in-house fabrication and management of trade show exhibits, display rentals, and an extensive online suite of portable trade show displays and components. Their in-house services include complete design, engineering, fabrication, promotional products, turn-key trade show management and storage programs for their clientele.
Zilla works with clients locally, nationally and internationally, including companies like Expedia Group, Vrbo (HomeAway), NASA, SBD Apparel, and SiriusXM.
###
---